Samsung , Side by Side Refrigerator RS68A8820S9 with SpaceMax™ Technology, 609 L
More space inside – same size outside
SpaceMax™ Technology
Store more food with a very spacious 634 liter* interior. Unique SpaceMax™ technology uses special high-urethane insulation that enables the walls to be much thinner without compromising energy efficiency. So it creates much more storage space inside without increasing the external dimensions.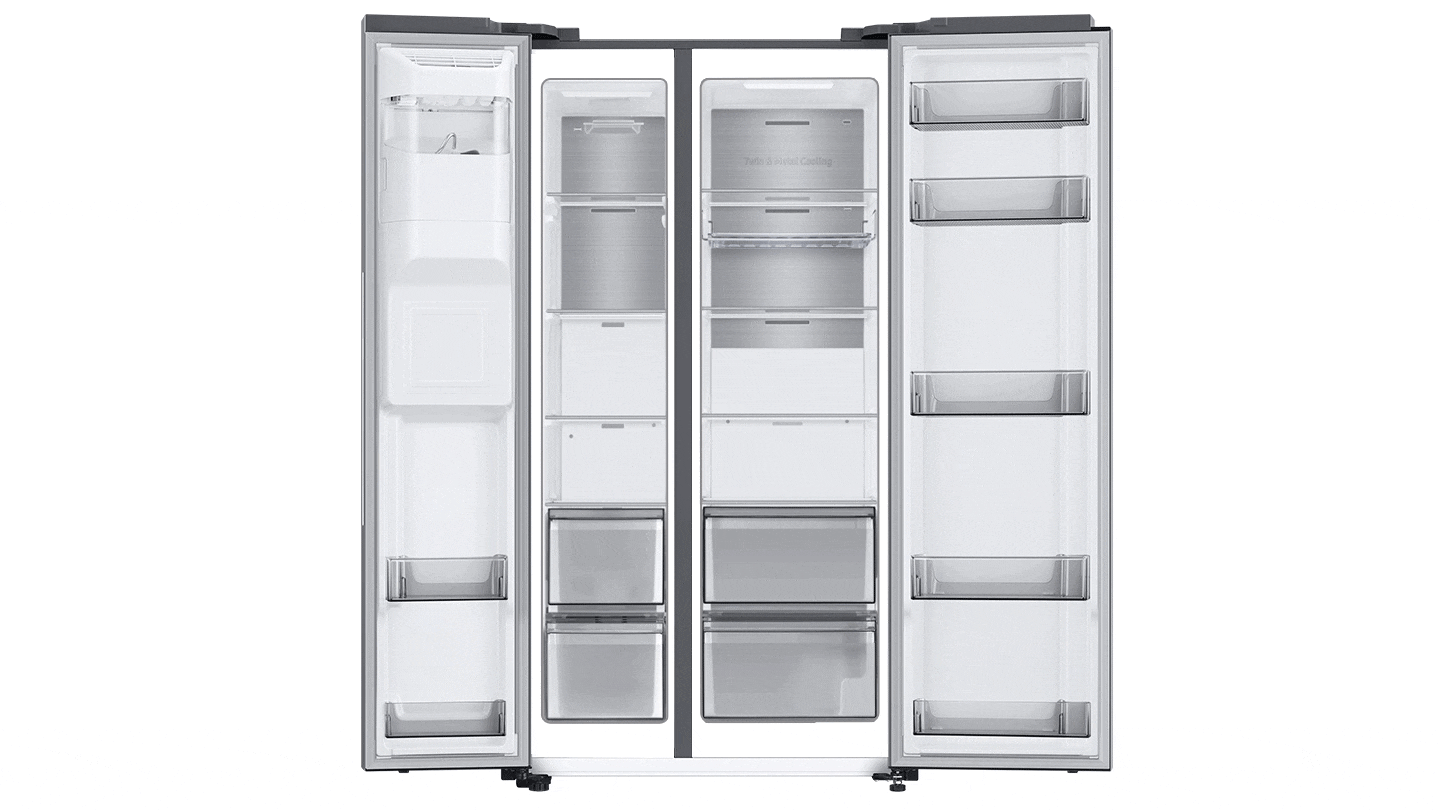 * The capacity is different for each model.
Moist freshness with independent cooling
Twin Cooling Plus™
Ensure food stays moister and fresher for two times longer*. Twin Cooling Plus™ optimizes the temperature and humidity in the fridge and freezer with independent cooling. It preserves food better and protects its flavor by preventing odors mixing.
* Based on internal testing compared to a conventional cooling system.
Much more flexible wine & food storage
Rack & Shelf
Make better use of your fridge space with a multi-functional Wine Shelf. Its wider design means it can store not only standard sized, but also thicker wine bottles, like champagne. A flatter shape also makes it much more versatile, as it can hold other food, such as pizzas and egg boxes.
Perfectly harmonious and stylish design
Built-in Look
Give your home a stylishly integrated and modern look. The Built-in Look fits perfectly with your appliances and cabinetry to create a seamless kitchen interior. And its minimalist design has flat doors, recessed handles, a Hidden Display, a flat wine shelf and gray-tinted food bins and boxes*.
* Optional. Only available on certain models.
Less wasted space, more food storage
Flat Duct
Get more space without compromising on performance. Unlike conventional ducts, the thin cooling vent in the rear wall is completely flat, which minimizes dead space and creates more room to store food. But it still cools and ventilates just as effectively, so everything stays fresh and tasty.
Seamless accessibility
Easy access controls
Enjoy stylish, but easy control, even if you have restricted movement. The Easy access control enhances the minimalist design as it is discretely hidden inside. The controls are within arm's reach, even from a wheelchair, and usable with one hand, ensuring better accessibility for disabled people.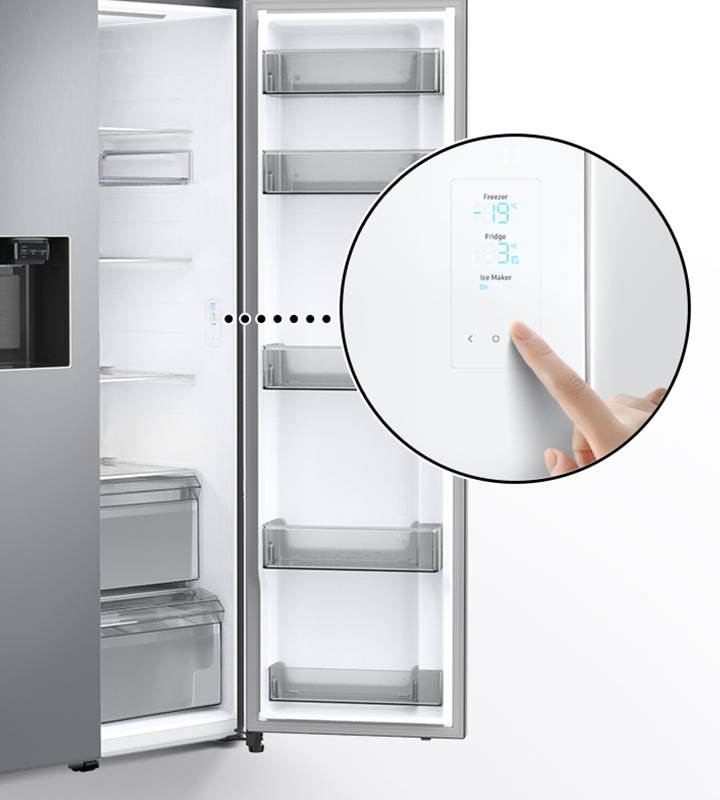 Less noise and energy
Digital Inverter Technology
Enjoy less noise and greater energy efficiency. Unlike conventional compressors, the Digital Inverter Compressor automatically adjusts its speed in response to cooling demand. So it's quieter than a library, producing just 37dB(B). It also complies with new energy regulations, saving you money.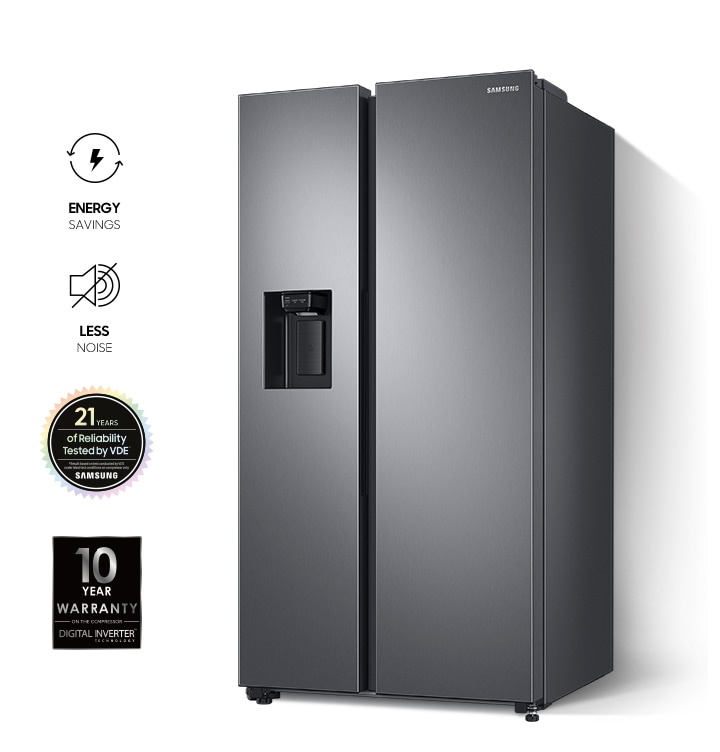 Consistent freshness
Precise Cooling
Preserve the freshness, flavor and texture of food for longer. Independent coolers in each compartment cool every corner evenly. Advanced insulation reduces any fluctuation, no matter how hot or cold it is outside. Digital Inverter Technology also senses and controls the temperature precisely.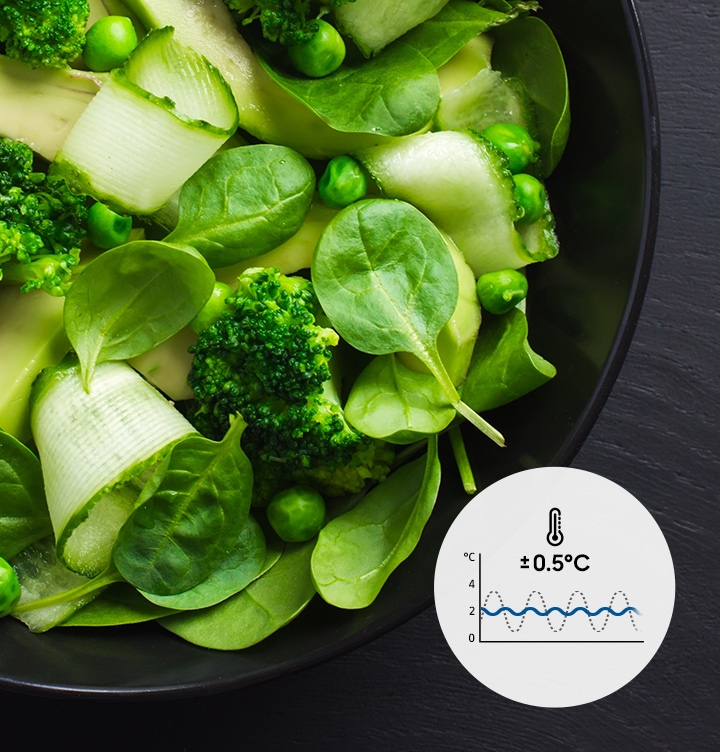 Captures freshness
Metal Cooling
Keep food fresh, even if you frequently open and close the door. The Metal Cooling duct in the rear wall helps to maintain the optimal internal temperature. It retains the cold and prevents the loss of cool air when the door is open. And it quickly restores any heat loss when it is shut again.
More ice, more space
Indoor Ice Maker
Create more space to store more food, but still have enough ice with an Indoor Ice Maker. As it's built into the door, it gives you extra storage by freeing up freezer shelf space, but can make and store plenty of ice. And its transparent plastic cover means you can easily see how much is left.
Install anywhere
Non-plumbing I&W Dispenser
Install the refrigerator anywhere without time-consuming plumbing or untidy pipes. It has a large, BPA free* water tank for its Non-plumbing Ice & Water Dispenser. So it can be installed in almost any location. And there's no need to change the water filter regularly, saving you time and money.
* Bisphenol A (BPA) is found in polycarbonate plastics and epoxy resins, which are often used in food and beverage containers, and has been linked with possible adverse health effects.
Fast cooling and freezing on demand
Power Cool / Power Freeze
Enjoy a rapid cooling performance. At the touch of a button, Power Cool blows intensely cold air into the fridge to quickly cool your groceries or favorite drinks. Power Freeze delivers a fast blast of cold air into the freezer. It's great for freezing or firming up frozen food and making ice.
More Information

| | |
| --- | --- |
| Brand | Samsung |